Can't Be Tamed
CD (2010) - Hollywood

/ Universal


(8716698)
Kjøp fra: CDON | iTunes | Amazon MP3
Anmeldelser på groove.no:
Montanas ungdomsopprør
Miley Cyrus nok vil stille sterkt hos de som er glade i enkle, kommersielle danselåter.
- Anne-Lene Rodahl Dedekam, 11.08.10
Involverte band og personer:
Låtskrivere/komponister:
Produsert av:
Relaterte utgivelser:

The Blacksheeps - The Blacksheeps (2009)
Hentet fra arkivene
Groovissimo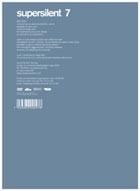 Supersilent - Supersilent 7
(Rune Grammofon)
En knallsolid konsertfilm med flere store høydepunkter. Hiorthøy og Supersilent i sublimt samspill.
Flere:
Bonnie Prince Billy - The Letting Go
Funeral Diner - The Underdark