Ekstranummer #48: Fossilene danser (del II)
Som vakuumpakkete hilsener fra en fjern urtid ligger fossilene og venter på å bli oppdaget. Noen av dem er til og med så heldige at de får sin egen plate! Her er del to av historien om en slik.
07.03.11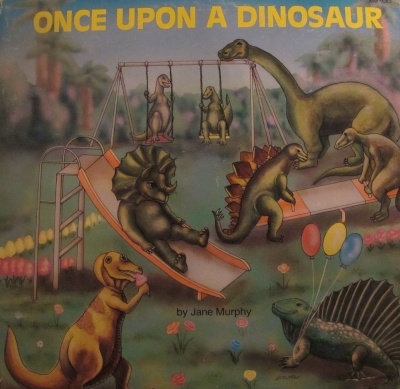 Reptil-ræpp

"The Brachiosaurus was the giant of the late Jurrasic Age sauropods." Han var enorm, førti fot høy og åtti fot lang. Men det er, som kjent, ikke størrelsen det kommer an på:

I'm a Brachiosaurus, and it's no wonder
that when I walk it sounds like thunder.
My legs are so thick, my body so fat,
I weigh as much as twenty elephants.

My neck is so long I could look you in the eye
if you stood on a building four stories high.
I'm a gentile plant eater, I'm no fighter.
I like to stand in deep water 'cause
it makes me feel lighter.

Den rake motsetning til T-Rex, altså, en snill og sedat planteeter. Denne gruppen dinosaurer får sin egen hyllest i nettopp sangen "The Plant Eaters", men hva med deres fryktede motsats, kjøtteterne? Denne gruppen "really kept the rest of the dinosaur population on their toes. Always on the lookout for their next meal, they were not popular company!" Noen av disse "colorful characters" var "Allosaurus, Tyrrannosaurus, Deinonychus and Megalosaurus":

Some dinosaurs lived on meat.
It was their favorite thing to eat.
Salads or pizza just wouldn't do,
They craved Triceratops chops or a
Stegosaurus stew!
No fruits, nuts or berries at their feasts,
Their menues consisted of other beasts.

Det finnes en låt på plata som overgår "tunga rett i munnen"-øvelsene på sangen om planteeterne omtalt i del 1 av denne teksten. Det er den nesten umulige visa "Reptile Rap" som rett og slett er en ræpp spunnet rundt dinosaurnavn. For alle som har gått lei av 50 cent, Eminem, Snoop Dogg og alle de andre styrtrike ghetto-slumdogs med sølvskjea sittende fast i halsen, anbefales "Reptile Rap" som en forfriskende avveksling. Her finnes ikke et grynt om ho's, crack, diamantinnsatte tanngriller, Limo'er påsatt prismekroner der vanlige millionærerkjerrer har billykter, "Smack My bitch up" eller hvor fælt kidza i Groruddal-gettoen har det. "Reptile Rap" har til og med fått herværende skribent til å innse at "kunstformen" rap kanskje kan ha noe for seg allikevel. Den framifrå tounge-bending barne-rap'en skal derfor gjengis i sin helhet. Syng gjerne med, alle bro's og ho's! Dere kan til og med få repetert alfabetet med denne sangen der dere sitter bak dører befestet med sju låser i crack-gettoer som Furuset og Holmlia. It's a mean fuckin' thang to be born norwegian middle class white thrash in the wrong places anyway, dig?

We can all say the alphabet with ease.
But do we know the dinosaur ABC's?
Dinosaur names are such fun to say,
much more than all the people names we hear each day.
Let's start rappin' now ready, set, go!
And see how many dinosaur names we know.
There's Ankylosaurus, that starts With an A,
and Allosaurus isn't hard to say.
Alamosaurus is another "A" word,
and also Archeoptheryx, a real early bird!
And Brachiosaurus who was tall as a tree.

Corythosaurus comes next in line
along with tiny Compsognathus. We're doing fine!
Listen to the "D" names as we go on:
Deinonychus, Diplodocus, Dimetrodon.
"E" is for Elasmosaurus, all alone.
"F" is for all the fossils that were found in stone.
"G" is for Geosaurus and Gorgosaurus too.
The Hadrosaur family for "H" will do.

Now the next letter as we move on
Is "I" for the big Iguanodon.
"J" is for Jurrassic Age of dinosaur times,
"K" is for Kentrosaurus, found in African climes.
Lesothosaurus, with its leaps and hops
starts with an "L", just like in Lephtoceratops.
It's time for Megalosaurus in our rhyme today,
and Monoclonius, that's fun to say!
"N" is for Nodosaurus With its knobby shell,
and little Notoceratops, as well.
We've got Ornitholestes, that starts With an "O",
and Ornithomimus, too. Way to go!
"P" is for Protoceratops and Plateosaur,
Pachycephalosaurus, too, and there are more.

Quetzlcoatlus begins with a "Q".
He had big, wide leathery wings, and he flew.
"R" is for Rutiodon, a crawly reptile
that looked a lot like a crocodile.
Our old friend Stegosaurus starts With an "S".
And so does Supersaurus, a giant, no less.
Some of our favorites are coming up next:
Triceratops and Tyrannosaurus Rex.

"U" is for Ultrasaurus, most gigantic one of all
who, scientists say, was maybe sixty feet tall!
"V" is for vegetarian dinosaurs
who got their vitamins from eating vines
and other plants galore.
"W" is for wings that let the Pterodactyl fly
and helped the big Pteranodon
to soar through the sky.

"X" marks the map where bones and fossils were found.
"Y" is for the years and years they lay in the ground.
There's no dinosaur yet that starts With a "Z".
So we'll leave that open for the next discovery.

There are so many dinosaurs of course there isn't time
to mention ever one of them in our rhyme.
But still, we did have lots of fun
rappin' those reptiles, one by one!

Sangen "Reptile Rap" er et godt eksempel på den læremessige merverdi som ligger i en godt utpønsket sang hvor underholdning og kunnskap sammen danner en høyere sum av enkelthetene. Ordspill, vanskelige ord og fantasispråk fenger barn. De mange kronglete artsnavnene er springbrett til språkglede og opptrening av hukommelse. Slik skal det gjøres! Sangen er uten tvil platas høydepunkt og en aldri så liten genistrek av Jane Lawliss Murhy.

Hvor ble det av dem?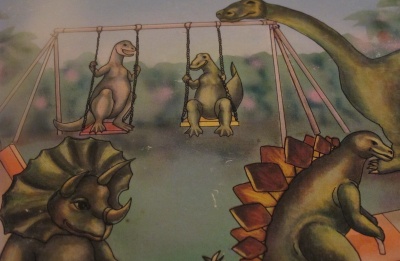 De skilpaddelignende og fredsommelige Ankylosaurus og Paleocincus spiste planter og ambulerte rundt i terrenget i sen kritt-tid. De var godt beskyttet av harde kroppsplater, "heavily armoured", dessuten "slow moving" og blir av Lawliss Murphy framstilt som "reptilian tanks". De ville nok fortont seg fremmedartede til og med for det moderne menneskets blaserte øyne, i hvert fall ut fra våre begreper om firbeinte skapninger. Men ville ikke en hvilken som helst dinosaur gjort det, uansett hvor mange spesialeffekter Hollywood har foret oss med? Det får så være, Lawliss Murphy lar de to øgleartene utveksle en tenkt dialog i ord og toner, en dag de er ute "for a friendly stroll":

"Two bulky old dinosaurs ran into each other one day. They weren't hurt because of their thick shells. In fact, they became the best of friends. Their names were Ankylosaurus and Paleocincus"

Said Ankylosaurus one day long ago
to Paleocincus, so heavy and slow,
"Why, we must be cousins, how can I tell?"
There's a family resemblance.
We both have a shell"

Anky and Paleo, Anky and Pal-le-le-o-o-o.

Said Paleocincus, "Let's take a small trip.
We can waddle and crawl
but we can't jump or skip."
So off they went down to the river to drink,
Ankylosaurus and Paleocinc.

Anky and Paleo, Anky and Pal-le-le-o-o-o.

Said Paleocincus to Ankylosaur,
"There's a big knob on your tail, what's it for?"
Said Ankylosaurus, "I use it to fight,
and to scare off meat-eaters
who come for a bite."

"My tail's sharp and spiky", said Paleocinc,
"To scare off my enemies
as quick as a wink.
With our bony shells and sharp horns,
I've a hunch
no Tyrannosaurus
would want us for lunch."

"We may not be pretty, we may not be fast,"
said Ankylosaurus, "but we're built to last.
And I'd rather be safe than be
handsome, I think."
"So would I, good old buddy", said
Paleocinc.

Anky and Paleo, Anky and Pal-.le-le-o-o-o.

Mot slutten av plata får barna oppsummert innholdet gjennom en del sammenfattende informasjon, f.eks at dinosaurene levde i den mesozoiske tidsalder, som strakk seg fra ca 225 til 65 millioner år siden. Da forsvant som kjent dinosauriene raskt og mystisk. Var det en komet som blåste ut livslyset deres, skyldtes det temperaturforandringer, klimakrise, pattedyr som åt eggene eller et dødsvirus? For noen år siden ble det hevdet i en avisartikkel at en menge dinosaurarter hadde multiple hjerter i kroppen og at disse begynte å svikte i en massiv skala. Teoriene er flere, men mest antatt er hypotesen om et kraftig nedslag av et stort himmellegeme som virvlet opp så mye skit og lort at verden ble lagt mørk over flere år. Denne "atomvinteren" gjorde at de kuldesensitive dinosaurene døde ut på kort tid. Nå er alle for lengst borte, med mulig unntak for en sjøorm her og der. Jane Lawliss Murphy hyller våre falne forfedre med en sang slik at vi kan minnes den tida da kjemper vandret omkring på jorda, da dino'ene "were the masters of the Earth" i det hun kaller "their days of glory":

We roamed the hills in giant bands
and left fossils in the sands
of many continents and lands.
We were the dinosaurs.

_ _ _

We had wrinkled skin
We were covered with scales
We had horns on our heads or on our tails
or fins on our backs that looked like sails.
We were the dinosaurs.

_ _ _

Then we all disappeared and we won't tell why.
We were the dinosaurs.

"Fossils have been able to tell us many things about the dinosaurs, but why they all disappeared is one of history's biggest mysteries." Jane Lawliss Murphy heller ikke til noen bestemt teori og vil ikke servere sine unge lyttere noen fasitsvar som uansett ville bygd på til dels usikre forutsetninger. Hun avslutter i stedet plata med å gi en oversikt over noen mulige måter dinosaurene kan ha gått ut av historien. Her er et utdrag fra sangen som viser at mulighetene er mange og at dinogale poder har litt av hvert å gruble over for å knekke denne nøtta:

Did the world get much warmer?
Did the dinosaurs die of the heat?
Did the swamps turn into deserts,
leaving them nothing to eat?
Or did the weather turn wintry
and colder and darker until,
with no warm fur or feathers,
did the dinosaurs die of the chill?

Anatosaurus, Brachiosaurus, Elasmosaurus, Triceratops…
Tyrannosaurus, Stegosaurus, Plateosaurus, Iguanodon,
where have they gone?

Was it floods or earthquakes
or maybe some new disease
that made the dinosaurs vanish
from the continents and seas?
Did volcanoes erupting
or a meteor from the sky
fill the air with dust cloads?
Did that make the dinosaurs die?

Det som imponerer med denne plate er grundigheten i arbeidet med å bygge læringsstoff inn i melodier og tekster som er morsomme og velskrevne. En fokusert og begeistret formidlende voksenperson har et ypperlig utgangspunkt å jobbe med i Once Upon a Dinosaur.

Sidestilt med et tilfeldig valgt sammenligningsgrunnlag, "miljøblekkspruten" Blekkulf, faller den sjølgode og moralistiske blekkjævelen helt gjennom som den departementalt godkjente PK-marionetten han er. Kok akkarstuing av Blekkulf og hele taremarebyen han lever i! Dinoplata til Lawliss Murphy er noe helt annet: God pedagogikk, god underholdning og god musikk på en og samme gang. En trifekta av vellykket intensjon og gjennomføring! Hvis apparatet rundt fossilet Ida "The Link" kommer opp med noe lignende for å begeistre og interessere barn for fossiler og fortidens skapninger med en evolusjonær overbygning, er Jane Lawliss Murphys plate et ypperlig forbilde. Barn kan lære gjennom sang, og for å sitere fra LP'ens baksidetekst en siste gang: "Whatever we like hearing and reading about we also enjoy singing about".


comments powered by

Disqus
Hentet fra arkivene
Groovissimo


Scorch Trio - Scorch Trio
(Rune Grammofon)
Ekstatisk og groovy improv av absolutt ypperste klasse!
Flere:
Diverse artister - Song of America
This Is Music Inc. - Krasnapolis