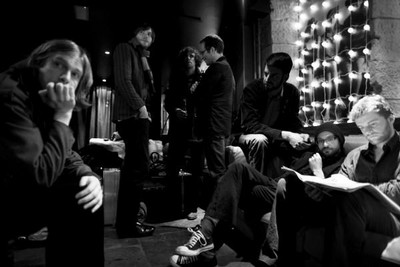 Gjesteliste: Broken Records
Skotske Broken Records ble manges favoritter med debutalbumet Until The Earth Begins To Part i 2009. Allerede i fjor kom oppfølgeren, Let Me Come Home, og skuffet ikke. Har de tid til å høre på annen musikk da? Vi spurte, og fikk en liste.
Del på Facebook06.01.11
For Broken Records klødde det virkelig etter å få musikken ut til folk, for etter de signerte kontrakt med 4AD ble det virkelig fart på sakene. Selv om verdensherredømme har latt vente på seg foreløpig, så er det kanskje bare et tidsspørsmål. Og hjemme i Edinburgh og når de er på turné så er det alltid tid til å høre på litt annen musikk for Broken Records Ian Turnbull, så her følger hans favoritter fra 2010:

The National – High Violet

This is the album that I think we've all listened to and enjoyed the most this year. Like Boxer, it's a grower, but you hear more and more detail in the arrangements each time you listen. Definitely a band who know exactly what they're doing and getting better and better each time.

Thee Silver Mt Zion Memorial Orchestra & Tra-La-La Band – Kollaps Tradixionales

I didn't like this quite as much as 13 Blues For 13 Moons, but it's still a great record. I don't think the rest of the guys are as keen on them as me (probably due to Efrim's voice) but I love how they've progressed from the sparse ambient string drones of the early albums to full on dirty guitar riffs!

Mogwai – Special Moves

Obviously no new tracks and still not as powerful as actually seeing them live, but the versions of "Glasgow Mega Snake" and "Mogwai Fear Satan" and properly brutal!

eagleowl – Into The Fold EP

eagleowl are a friends of ours from Edinburgh. They're a four-piece who play very sparse and atmospheric music with double-bass, guitar, violin, harmonium and mandolin, and this record is beautiful, especially the big choir at the end of the last track "No Conjunction".

Meursault – All Creatures Will Make Merry

The second album from another Edinburgh based band. It combines acoustic instruments with driving electronic percussion and textures. Neil also has an incredibly powerful voice and doesn't always need to use his microphone...

Efterklang – Magic Chairs

I really like all the careful arrangements and the percussiveness of this album. Songs like "Modern Drift" have such a simplicity and groove, although I think they said that one is surprisingly difficult to play!

Micah P Hinson & The Pioneer Saboteurs

I think he's one of those artists who seems to be building a big coherent body of work. I love how the aesthetic of the artwork compliments the previous albums and gives you the feeling that he's really thought about the whole package.

Sparrow & The Workshop – Crystals Fall

Jill from Sparrow & The Workshop sang on our album and we think they're a fantastic band. There's a dark gothic-country feel to this record and Gregor's drumming is brilliant – he not only keeps up the driving pace of the songs but also uses the kit as a melodic instrument. Does that make sense?

Music Like A Vitamin/Fruit Tree Foundation – First Edition

This is an album for a charity project set up by Rod Jones (Idlewild) and Emma Pollock (Delgados) to raise awareness of Mental Health issues. As well as Rod and Emma it features collaborations with other Scottish artists including James Yorkston, Karine Polwart, and members of Frightened Rabbit, Twilight Sad and Sparrow & The Workshop. It's quite diverse but working together it's really interesting to hear everyone doing something that's a bit different to the style of their usual output.

Twin Shadow - Forget

Not sure what everyone else thinks of it, and I've chosen yet another 4AD artist (!), but this came out of nowhere and it might almost be my favourite after High Violet. The production is great and sounds unashamedly 80's, even if one of the tracks sounds like it's just lifted the drums straight off Joy Divison's "She's Lost Control". I was definitely pleasantly surprised by this record.

Because there are too many of us to choose just 10, we have also been enjoying records by Beach House, The Walkmen, Bruce Springsteen, Deerhunter, Holy Fuck and Warpaint.




comments powered by

Disqus