Nytt om Nu Music
NuMusic i Stavanger er i ferd med å fastsette programmet som også består av en interessant seminardel der Wire-assosierte personer deltar.
Del på Facebook13.05.06
Slik ser programmet ut pr. dags dato. Festivalen går av stabelen 6. - 9. september.

Onsdag 6:
-PIERRE HENRY (1950's & 60's)
-KICK OFF CONCERT: THE WHITEST BOY ALIVE

Torsdag 7:
-PIERRE HENRY (1970's & 80's)
-FOUR TET & STEVE REID
-LINDSTRØM & THOMAS
-ANNIE (DJ SET) & BALTHAZAR
-WHITEHOUSE
-NOXAGT
-WOLF EYES
-KIM HIORTØY
-DJ JOAKIM HAUGALAND
-DJ TODD TERJE

Fredag 8:
-PIERRE HENRY (1990's -)
-DJ KOOL HERC
-DäLEK
-DIPLO
-MAD PROFESSOR
-DJ SPOOKY THAT SUBLIMINAL KID
-DARK SIDE OF THE FORCE
-AFRA AND THE INCREDIBLE BEATBOX BAND
-MU
-LOUIE AUSTEN
-HOT CHIP tbc
-NEW YOUNG PONY CLUB
-DJ MAURICE FULTON
-A HAWK & A HACKSAW
-MURCOF
-ICARUS
-HANNE HUKKELBERG
-LEAF RECORDS DJ'S

Lørdag:
-ANDREW WEATHERALL
-STEREO TOTAL-
-FUJIYA AND MIYAKI
-SEX BEAT
-MONOMEN
-SUPERJUPITER
-SUGARGHOST
-AUDIOGARDE
-NEXT LIFE
-DURAN DURAN DURAN
-JASON FORREST
-MOTHBOY
-KID 606
-KNIFEHANDCHOP
-DROP THE LIME
-ELEKTROFANT
-LEGOWELT
-QRT

Et utvalg seminarer: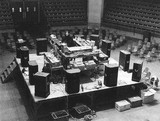 'CAN'T STOP, WON'T STOP'
Jeff Chang & Kool Herc : Q & A session med grunnlegger av hip hop Kool Herc.
………………………………………..
SOUND AND THE 20TH CENTURY AVANT GARDE
Med Lina Dzuverorvic, Anne Hilde Neset og Rob Young.
Fra Musique Concrete til samplingkultur


comments powered by

Disqus
Hentet fra arkivene
Groovissimo


The Samuel Jackson Five - Easily Misunderstood
(Honest Abe)
En krevende plate for krevende lyttere med store krav...
Flere:
Stereolab - Sound-Dust
Ed Harcourt - From Every Sphere