Jack Rose & Glenn Jones
Intimkonsert slippes på DVD i april, se smakebit her.
Del på Facebook05.03.10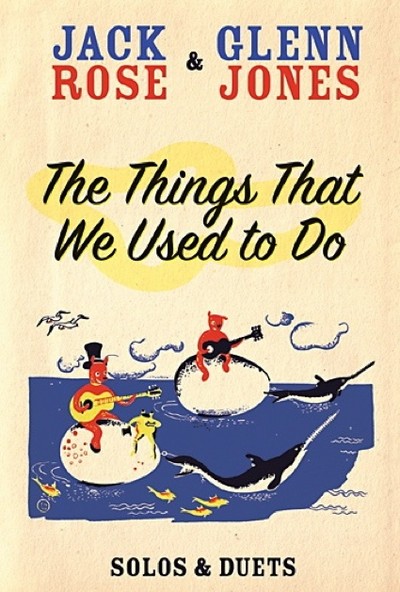 The Things That We Used to Do er tittelen på en film som slippes på Strange Attractors i april. Dette er en intimkonsert med Glenn Jones (fra Cul de Sac) og Jack Rose, som så tragisk gikk bort tidligere i år.

I tillegg til et 40 minutter langt intervju består filmen av følgende:
Solo:
Jack Rose
1. Gage Blues (3:59) 2. Revolt (3:08) 3. Levee (3:38) 4. Song for the Owl (3:03) 5. Dusty Grass (4:54) 6. Fishtown Flower (3:16) 7. The World Has Let Me Down (5:29) 8. Kensington Blues (3:34) 9. Blessed Be the Name of the Lord (3:26)

Glenn Jones
1. Redwood Ramble Misremembered (4:08) 2. Barbecue Bob in Fishtown (5:09) 3. 1337 Shattuck Avenue, Apartment D (7:49) 4. A Geranium for Mano-a-Mano (4:02) 5. David and the Phoenix (9:31) 6. A Lark in Earnest (3:16)

Duett:
1. Linden Avenue Stomp (4:28) 2. Miss May's Place (2:50)

Konsert:
Glenn Jones
1. Dead Reckoning (5:36) 2. Keep It 100 Years (2:41) 3. Island 1/Against My Ruin (4:44)

Jack Rose
1. Cross the North Fork (10:51) 2. Luck in the Valley (2:02) 3. St. Louis Blues (4:45)

Det betyr nesten 2,5 time med stålstrenger. Regien er ved Jesse Sheppard, og om utgivelsen heter det blant annet:

- The takes are live, but the performances are not in front of an audience; rather, it was three cameras, two musicians, and a home transformed into a studio for a day which created the perfect backdrop for the players and their very personal music to unfurl. The result is an astounding, one-of-a-kind document of two leading lights of contemporary solo acoustic steel string guitar music in their prime, turning in stellar performances.

Se en smakebit her:


Jack Rose & Glenn Jones - 'The Things That We Used to Do' DVD trailer from Strange Attractors Audio House on Vimeo.
comments powered by

Disqus
Hentet fra arkivene
Groovissimo


Okkervil River - Don't Fall In Love With Everyone You See
(Jagjaguwar)
Elva er dyp og elva er bred, men Okkervil River navigerer stødig av sted.
Flere:
Bob Dylan - Modern Times
Ping - Discotheque of Darkness