Ny Sonic-skive
Mark Ibold er nå registrert som fast medlem i bandet.
Del på Facebook13.02.09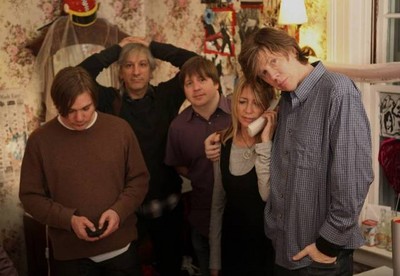 The Eternal er tittelen på Sonic Youths 16. album og deres Matador-debut. Det slippes på CD, LP og digitalt 9. juni.

John Agnello har igjen kontrollert spakene sammen med bandet. Den drevne produsenten har tidligere jobbet med blant andre Dinosaur Jr., The Hold Steady, The Ponys og Redd Kross, og innspillingen er foretatt i bandets eget Echo Canyon i Hoboken, NJ. Ex-Pavement Mark Ibold har i de siste årene vært fast medlem i turnetruppen til Sonic Youth, men er nå registrert som likeverdig bandmedlem. Med platen følger en omfattende turnevirksomhet.

Matadors Gerard Cosloy uttaler om The Eternal:

- We've not had a record in our recent history that's been the subject of nearly as much speculation and anticipation. Suffice to say we're pretty amazed at the way the band delivered something this neoteric while still sounding like, well, themselves. Less of a reinvention and perhaps more to do with a particularly awesome dozen songs.

Låtliste:
Sacred Trickster
Anti-Orgasm
Leaky Lifeboat(for Gregory Corso)
Antenna
What We Know
Calming The Snake
Poison Arrow
Malibu Gas Station
Thunderclap For Bobby Pyn
No Way
Walkin Blue
Massage The History

Foto: Andrew Kesin/Matador, presse.


comments powered by

Disqus