Intervju: Spirogyra
grooves Ronny Svendsen har snakket med grunnleggeren av folkbandet Spirogyra; Martin Cockerham.
Del på Facebook25.04.06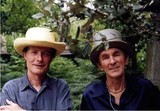 Spirogyra fra Canterbury ga ut flere klassiske folkskiver på 70-tallet. I likhet med Comus, Incredible String Band og Forest opererte de først og fremst med en eksperimentell proginspirert form for folk. Mens mange av de gamle folk- og psychmusikerne etter hvert fikk normale A4-liv på 70 og 80-tallet så lever fortsatt bandets leder og grunnlegger Martin Cockerham som heltidsdedikert musiker og kunstner. Han lager også fortsatt musikk under blant annet Spirogyra-navnet.

Nylig fikk Martin med seg co-grunnlegger Mark Francis som Spirogyra-medlem og ringen er sluttet for bandet.

- A new Spirogyra compilation has just come out from Sanctuary Records. Can you tell us a little bit about that?

Martin: I've been travelling in Asia and did not yet get to see or hear a copy of the new release. What I'm pleased about is that some of it has pressed from the original masters. Some previous CD releases were just copies from the vinyl and not up to top standard.

Also the new release contains previously unreleased songs and recordings. You are basically getting four albums for the price of one. So I think it is very good value. David Wells, who is a well known author in psychedelic rock has done nice sleeve notes. It's a must have for Spirogyrafans.

- So, what is the band called now? Spirogyra, Gyram or The Original Spirogyra? I'm confused...

Martin: I'm also a bit confused about this. The band is actually called all of these. In the west we have this thing where you are only allowed one name. In India the gods like Krishna and Shiva have thousands of names. So I'm keeping all of the above names. Just to make matters worse I'm putting out solo stuff under the name Faery King. Until the new records actually come out it's uncertain which name will get preference.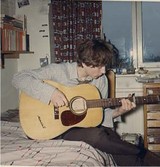 - Was there a single event that made you interested in music as a young man?

Martin: The single event was hearing a neighbour play guitar in his garden at about age 10 (1960). The next single event would have to be the arrival of the Beatles who O was mad about from the start. (in fact I still have not recovered from the break up of the Beatles! I cry about it for hours all the time. Especially whenever I hear one of their great old recordings. The ard act is that there has been absolutely nothing anywhere near as good since except maybe Spirogyra!).

By the way, before playing guitar I was a drummer. I played drums in a band with Mark Francis called William Shakespeare's Magical Miracle Makers before I learned guitar. Just as influential for me was the arrival of Bob Dylan because I was already a poet and was immensely influenced by his amazing musical poetry set to easy chords. This got me started playing guitar and writing my own songs. My second song was The Forest of Dean. The first was called It Aint Been Easy and it's not much. The other big influence on me was The Incredible String Band. That's what turned me more to psychedelic folk – also Donovan.

- When and how did you realize that you could write songs?

Martin: Mike Stone who played lead guitar in the band with me and Mark taught me my first guitar chords and I more or less started writing
songs immediately. Once in London Paul Mccartney played me the first song he ever wrote and he played it to me on his first ever guitar which he still has. I didn't dare play him my first song!

- How do you write songs? What comes first, melody line, text, chord progression or a feeling/mood?

Martin: All of my best songs were written with the chords, main lyrics and melody all coming to me at the same time all of a sudden. It usually happens in far out places and times after playing around with some new chords for a while in the preceeding days. Some times a particular person inspires the song. Incidently - Paul McCartney wrote a song when we first met - he is quoted in the paper and said I inspired it. It's called One of These Days!

- What are the Spirogyra songs you're most pleased with?

Martin: My favourite Spirogyra song is called Sea Song and it was the last song I wrote while Barbara and I were still together in the band. It is actually a mini rock opera and has about 6 songs in it. We never recorded it in a studio, but there are two rough live recordings of it. I'll be putting it on a new compilation of previously unreleased Spirogyra songs called Arkives' which may get relased some time.

- You and old time Spirogyra member Mark Francis constitute Spirogyra. How did you catch up with him again after he quit the band early in
the band's career?

Martin: I had a hard time finding Mark. It took me about 2 months of searching out many old friends. Mark has always been a great songwriter and musician. At the time I was trying to get all the old Spirogyra musicans together but only Mark came forward. It was actually Mark and I who started Spirogyra in Bolton in 1967. A good year to start a psychedelic folk band.

- Do you play live nowadays? An who sings the female vocals?

Martin: I mostly play solo now and there are a few musicians who sometimes join me. But I'm a rolling stone and always travelling. I never find anyone as free as me to move with little money so I play solo.

- Many labels have been put on Spirogyra. Folk, prog, dylanesque folk, jazz rock, psyschedelia. How would you describe the music yourself?

Martin: I simply describe it as 'musical heroin'!! There's nothing quite like it for inducing bliss - and once on it you can't get off!!

- Is this different now compared to the 70s?

Martin: The influence of Mark Francis is taking our joint work more in the folk/rock/pop direction. So I am also doing solo work as Faery King which is completely non mechanical and much more psychedelic folk. No midi tempo, no synths and lots of wierd instruments. Totally 'airy fairy' It all depends on what happens in the studio as it's all recorded live with no mechanical tempo and no synths. I'm going to use medieval instruments like lute. It's a bit irish.

- The UK folk scene included a lot of bands in the 60s and 70s, like Fairport Convention, Steeleye Span, Dulcimer and Bread Love & Dreams. Did you feel part of that scene?

Martin: We did not have roots in traditional folk at all like most of them. As I said our influences were more psychedelic folk like the String Band and folky pop which was very popular in those days with people like Donovan, Simon and Garfunkle, Cat Stevens and the already mentioned Beatles, many of whose songs were acoustic driven, and of course Dylan.

- I understand you are in India now. Can you tell us a little bit about future plans?

Martin: I am going to be back in Europe this summer. I would like to visit Sweden and Norway if there are any offers of solo folk gigs or places to stay. I'll be playing in England, Italy, Bulgaria and Sicily. I'll put up news on my web site near the time about my gigs. Mostly this summer I'll be finishing the recording of the two new albums. 1. Gyram (with Mark Francis and others) 2. Faery king (solo)

- Today one can download MP3 samples of practically speaking any band in only a few minutes. Is this a problem or do you consider it a blessing?

Martin: To be realistic it is the small struggling musicians who suffer from illegal downloading. It doesn't matter for the big names since their records are in every shop. This situation has pretty much stopped companies investing in unknown artists. It means your only hope is to have a commercial hit. It's one of the reasons that no-one innovates much any more in contemporary music. It simply has no pay off and you are likely to end up dying penniless like Van Gough or Shakespeare.

- Are you politically interessted? Any thoughts on the western culture/world?

Martin: I am extremely politically motivated. I have always been working towards world revolution. I studied politics in university and my new book includes an entire political philosophy. I am basically a monarchist (King arthur and all that) but I would add elements of democracy. Thus I call my political philosphy 'democratic monarchy'. I don't believe that the huge problems facing humanity can be solved by 'rule of law'. We need rule of enlightened persons. I aim to make an 'earth emperor' with democtratic safeguards. 'Rule of law' simply ends up 'rule of money' from behind the scenes. Democracy is a total sham. I believe in kings and queens and the gods - it's all in my book if you want to know more.

- Thanks for giving us some of your time. A final question, what's your 5 favourite albums of all time?

Martin: Nowadays my favourite music is epic film scores like Gladiator by Hans Zimmer and Saving Private Ryan by John Williams. Try the music from The Merchant of Venice With Al Pacino. It's medieval!

But in classic rock/pop/folk there are 5 and a bit which had the most impact on me:

Bob Dylan: any of his albums until and including The Basement Tapes - nothing after that).
The Incredible String Band: Hangman's Beautiful Daughter and The Big Tam & Wee Huge.
The Beatles: White Album and Anthology, but all their albms are great.
Neil Young: After the Gold Rush
Deep Forest: their first album
Spirogyra: Bells Boots and Shambles


comments powered by

Disqus
Hentet fra arkivene
Groovissimo


Os Mutantes - Mutantes ao Vivo: Barbican Theatre, Londres 2006
(Luaka Bop / V2)
Viva Mutantes! Fantastisk gjenforeningskonsert, festet til tape og film.
Flere:
Wavves - Wavvves
The Shins - Wincing The Night Away