Arkivene åpnes
Neil Young slipper endelig den lenge bebudede første boksen fra hans gedigne arkiv. Archives Vol. 1 tar for seg årene 1963 – 1972 og kommer i tre utgaver.
Del på Facebook18.04.09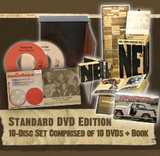 2. juni er datoen å merke seg. Da kommer boksen som har vært utsatt og utsatt de siste årene, samtidig som Neil Young har sluppet smakebiter underveis. To av disse er inkludert når høvdingen endelig slipper den nærmest mytiske Archives Vol.1.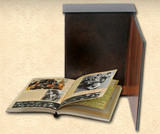 2009 ser ut til å bli et strålende år for kongen av flanellskjorter, og det har lite å gjøre med hans nye og slappe utgivelse Fork in the Road. For fansen er 11. juni og Norwegian Wood selvsagt plottet inn, men det viktigste er dog den gedigne boksen som kommer både i CD, DVD og Blu-Ray-formatet.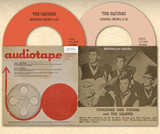 Den billigste utgaven består av åtte CD-plater, der Live at the Fillmore East og Live at Massey Hall allerede er utgitt. Ellers finner vi masse stoff (der mye er kjent, men en god del aldri har sett dagens lys) fra sekstitallet og frem til og med Harvest i 1972. Denne utgaven består totalt sett av 116 låter og har også en fyldig booklet, men ikke den innbundne som de to andre har. Prisen på hjemmesiden sier $100, mens norske platebutikker opererer med 1200 kroner.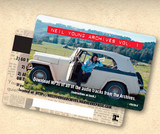 For de som ikke nøyer seg med dette er det DVD eller Blu-Ray som gjelder. Disse utgavene koster henholdsvis $200 og $300, og inneholder to disker ekstra (bla filmen Journey Through the Past) i forhold til utgaven på CD + en omfattende bok, innbundet i lær, samt diverse annet snadder.

Verdt å merke seg er også at separate utgivelser av de forskjellige platene er mulig å kjøpe fra hjemmesiden – og kun derfra.

Archives Vol. 1 (den feteste utgaven) strekker seg fra starten med The Squires, via Buffalo Springfield og Crosby, Stills, Nash & Young, før det hele ender opp med eksplosive Crazy Horse i overgangen mellom seksti og syttitallet. Samarbeidet med The Stray Gators på Harvest har også en naturlig plass på denne boksen - som består av følgende innhold:

EARLY YEARS (1963-1965)
Aurora (The Squires)
The Sultan (The Squires)
I Wonder (The Squires)
Mustang (The Squires)
I'll Love You Forever (The Squires)
(I'm a Man and) I Can't Cry (The Squires)
Hello Lonely Woman (Neil Young & Comrie Smith)
Casting Me Away From You (Young & Comrie Smith)
There Goes My Babe (Neil Young & Comrie Smith)
Sugar Mountain
Nowadays Clancy Can't Even Sing
Runaround Babe
The Ballad of Peggy Grover
The Rent is Always Due
Extra, Extra

EARLY YEARS (1966-1968)
Flying on the Ground is Wrong
Burned (Buffalo Springfield)
Out of My Mind (Buffalo Springfield)
Down, Down, Down
Kahuna Sunset (Buffalo Springfield)
Mr. Soul (Buffalo Springfield)
Sell Out (Buffalo Springfield)
Down to the Wire
Expecting to Fly (Buffalo Springfield)
Slowly Burning
One More Sign
Broken Arrow (Buffalo Springfield)
I am a Child (Buffalo Springfield)

TOPANGA 1 (1968-1969)
Everybody Knows This is Nowhere
The Loner
Birds
What Did You Do to My Life?
The Last Trip to Tulsa
Here We Are in the Years
I've Been Waiting For You
The Old Laughing Lady
I've Loved Her So Long
Sugar Mountain
Nowadays Clancy Can't Even Sing
Down by the River
Cowgirl in the Sand
Everybody Knows This is Nowhere

LIVE AT THE RIVERBOAT (TORONTO 1969)
Sugar Mountain
The Old Laughing Lady
Flying on the Ground Is Wrong
On the Way Home
I've Loved Her So Long
I Am a Child
1956 Bubblegum Disaster
The Last Trip to Tulsa
Broken Arrow
Whiskey Boot Hill
Expecting to Fly

TOPANGA 2 (1969-1970)
Cinnamon Girl
Running Dry (Requiem For The Rockets)
Round And Round (It Won't Be Long)
Oh Lonesome Me
Birds
Everybody's Alone
I Believe In You
Sea Of Madness
Dance Dance Dance
Country Girl
Helpless
It Might Have Been

LIVE AT THE FILLMORE EAST (NEW YORK 1970)
Everybody Knows This is Nowhere
Winterlong
Down By the River
Wonderin'
Come On Baby, Let's Go Downtown
Cowgirl in The Sand

TOPANGA 3 (1970)
Tell Me Why
After the Gold Rush
Only Love Can Break Your Heart
Wonderin'
Don't Let it Bring You Down
Cripple Creek Ferry
Southern Man
Till the Morning Comes
When You Dance, I Can Really Love
Ohio
Only Love Can Break Your Heart
Tell Me Why
Music is Love
See the Sky About to rain

LIVE AT MASSEY HALL (TORONTO 1971)
On The Way Home
Tell Me Why
Old Man
Journey Through the Past
Helpless
Love in Mind
A Man Needs a Maid/Heart Of Gold (Suite)
Cowgirl in the Sand
Don't Let it Bring You Down
There's a World
Bad Fog of Loneliness
The Needle and the Damage Done
Ohio
See the Sky About to Rain
Down By the River
Dance Dance Dance
I Am a Child

NORTH COUNTRY (1971-1972)
Heart of Gold
The Needle and the Damage Done
Bad Fog Of Loneliness
Old Man
Heart of Gold
Dance Dance Dance
A Man Needs a Maid
Harvest
Journey Through the Past
Are You Ready For the Country?
Alabama
Words (Between the Lines of Age)
Soldier
War Song (Neil Young & Graham Nash)

JOURNEY THROUGH THE PAST - A FILM BY NEIL YOUNG
Tilgjengelig for første gang siden den hadde kinopremiere i 1973. Masse bonusmateriale som filmsnutter og sjeldent fotomateriale av Buffalo Springfield, Crosby, Stills, Nash & Young, samt levende bilder og lyd fra innspillingen av Harvest der Neil Young samarbeidet med The Stray Gators, for å nevne noe.

Archives Vol. 2 (72-82) er for øvrig planlagt utgitt i 2011-2012, og deretter kan vi forvente ytterlige tre-fire mursteiner til før alle smulene i verdens største bløtkake er i boks.

Forever Young!


comments powered by

Disqus
Hentet fra arkivene
Groovissimo


Vidar Sandbeck - En fergemanns vise
(Normann)
En av de viktigste populærmusikkhistoriske arkivutgivelser på lang tid.
Flere:
Pinetop Seven - The Night's Bloom
J. Mascis - Several Shades Of Why