Warp i boks
Feirer sine 20 første år med elegant bokssett.
04.08.09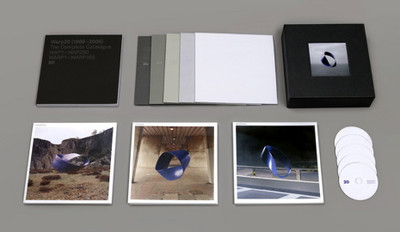 Warp markerer sine 20 første leveår med en deluxe boks for fansen. Warp ble til i Sheffield, 1989 og selskapet har vært nærmest synonymt med artister som Autechre, Aphex Twin og Boards of Canada, og også sin visuelle signatur anført av Chris Cunningham.

Warp20 fremstår da også som en blanding av musikk og kunst, og for de som ikke har fått med seg detaljene enda dreier det seg blant annet om en dobbel "best of" CD i en titommerboks (Chosen), en dobbel CD med coverlåter (Recreated), trippel titommer med uutgitt materiale (Unheard)

Warp20 (Chosen)
Disc 1 (utvalgt av fansen)

01. Aphex Twin 'Windowlicker'
02. Boards Of Canada 'Roygbiv'
03. Squarepusher 'My Red Hot Car'
04. Battles 'Atlas'
05. LFO 'LFO (Leeds Warehouse Mix)'
06. Plaid 'Eyen'
07. Luke Vibert 'I Love Acid'
08. Autechre 'Gantz Graf'
09. Jimmy Edgar 'I Wanna Be Your STD'
10. Clark 'Herzog'

Disc 2 (utvalgt av Warp-grunnlegger Steve Beckett)

01. Broadcast 'Tender Buttons'
02. Squarepusher 'My Sound'
03. Boards Of Canada 'Amo Bishop Roden'
04. Battles 'Race : Out'
05. Flying Lotus 'GNG BNG'
06. Black Dog Productions - Xeper 'Carceres Ex Novum'
07. Nightmares On Wax 'I'm For Real'
08. Mike Ink 'Paroles (Original)'
09. Aphex Twin 'Bucephalus Bouncing Ball'
10. Jamie Lidell 'Daddy's Car'
11. Squarepusher/AFX 'Freeman Hardy & Willis Acid'
12. Seefeel 'Spangle'
13. Autechre 'Drane'

Warp20 (Recreated)
Disc 1

01. Born Ruffians 'Milkman/To Cure A Weakling Child' (Originals by Aphex Twin)
02. Jimi Tenor 'Japanese Electronics' (Original by Elecktroids)
03. Tim Exile 'A Little Bit More' (Original by Jamie Lidell)
04. Rustie ' Midnight Drive' (Original by Elecktroids)
05. Luke Vibert 'LFO' (Original by LFO)
06. Autechre 'What Is House? (LFO Remix)' (Original by LFO)
07. Russell Haswell 'Cabasa Cabasa' (Original by Wild Planet)
08. Clark 'So Malleable' (Original by Milanese)
09. Diamond Watch Wrists 'Fool In Rain' (Original by Pivot)
10. Hudson Mohawke ft. Wensday Night 'Paint The Stars' (Original by Jimi Tenor)

Disc 2

11 Mark Pritchard '3/4 Heart' (Original by Balil - Black Dog Productions)
12. Mira Calix with Oliver Coates 'In A Beautiful Place Out In The Country' (Original by Boards Of Canada)
13. Pivot 'Colorado' (Original by Grizzly Bear)
14. Bibio 'Kaini Industries' (Original by Boards Of Canada)
15. Jamie Lidell 'Little Brother' (Original by Grizzly Bear)
16. Leila 'Vordhosbn' (Original by Aphex Twin)
17. John Callaghan 'Phylactery' (Based on Tilapia by Autechre)
18. Gravenhurst 'I Found The F' (Original by Broadcast)
19. Plaid 'On My Bus' (Original by Plone)
20. Seefeel 'Acrobat' (Original by Maximo Park)

Warp20 (Unheard)
10" 1

A1. Boards of Canada 'Seven Forty Seven'
B1. Autechre 'Oval Moon (IBC mx)'
B2. Clark 'Rattlesnake'

10" 2

C1. Plaid 'Dett'
C2. Elecktroids 'Elecktroids Bonus Circuit'
D1. Flying Lotus 'Tronix'
D2. Nightmares On Wax 'Biofeedback Dub'

10" 3

E1. Plaid 'Sam Lac Run'
E2. Nightmares On Wax 'Mega Donutz Dub'
F1. Broadcast 'Sixty Forty'
F2. Seefeel 'As Link'

I tillegg medfølger Elemental (enkel CD) og den doble titommeren Infinite, låtliste her slippes senere, samt boken Warp20 (1989-2009) The Complete Catalogue, 192 sider med komplett info og artwork fra alle selskapets utgivelser

Boksen vil være i handelen 25. september i et begrenset utvalg, men den kan forhåndsbestilles fra Bleep nå.


comments powered by

Disqus
Hentet fra arkivene
Groovissimo


The Fiery Furnaces - Gallowsbird's Bark
(Rough Trade)
Ein fanfare til upolert og hemningslaus rock'n'roll, frå debuterande New York-duo.
Flere:
Kendrick Lamar - To Pimp a Butterfly
Plastikman - Closer